When it comes to extracting actionable insights from web-based metrics, there's still a lot of guesswork and speculation involved in the process. Even the most advanced digital analytics tools rarely give marketers the full picture. This is especially true in the B2C world where success relies heavily on shoppers, diners, patients and customers.
Get better insights with location analytics
If you're looking for a truly savvy way to see which channels have the most influence on purchasing decisions, bring your company's location analytics into your marketing metrics mix.
By combining your real estate team's customer data with analytics from your website, social media, automation and digital advertising platforms, you can get a much clearer view of the role each channel plays, from in-store promotions to mailers to emails and everything in between. And you can easily gain these valuable insights for every market, right down to individual trade areas where people live, work, shop and dine.
For example:
To get a better sense of how real estate and marketing can unite, let's look at a network of independent doctors. Using eSite Tools, we can easily and quickly drill down to see trade area demographics for one of the hundreds of member offices: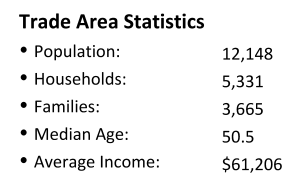 In addition, we can get an accurate snapshot of revenue potential: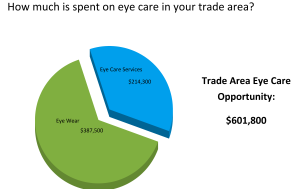 It means greater customer insights
At a basic level, your real estate team's spatial analytics tools can be used to anticipate behavioral patterns of customers in key markets. You can see exactly who your audience is, how much they're willing to spend and what percentage of potential revenue is going to competitors.
If your company's real estate analysts are using actual trip data, you'll also get highly detailed information on day-to-day spending and driving behaviors. Data that you can use to get your message to exactly the right people and exactly the right time.
By analyzing GPS trip data, your company can see exactly where customers are coming from—if they live a mile away from a particular location, commute from another town or frequent the area for seasonal tourism.
How spatial insights improve marketing
The right site analytics tool and an experienced analyst can add priceless insights to your marketing campaigns for EVERY location in EVERY market. By combining real customer data with marketing analytics, your business can:
See in an instant if there's more potential for foot traffic from residences or local businesses so you can decide between flyer handouts versus targeted mailers
Optimize websites with the right neighborhoods, town names and zip codes
Build a list of hyper-local keywords for Pay Per Click advertising
Prominently target neighborhoods, town names and zip codes in advertising copy
Use demographics to determine which sponsorships will gain the most traction
Where to get these insights
If you're looking for location analytics software to help guide marketing, check out TrailBlazer to see how real trip data makes it easier than ever to identify marketing that truly yields results.