Studio Movie Grill has grown dramatically by following an unconventional idea. Founder and Owner Brian Schultz calls it "conscious capitalism."
"Almost all the locations that we go to, there's something that's needed in the community," Schultz said. "In some areas, it might be literacy, or other areas it might be employment or violence-oriented things. Our focus is going to a place where we can make a difference."
The strategy has helped the company – a leader in in-theater dining – to grow from two locations to more than 30 across the country by the end of 2017.  More surprisingly, the company has done so in places like Upper Darby outside Philadelphia and the Chatham neighborhood in Chicago.
"Hardly top 10 retail locations," Schultz pointed out with a smile.
Feel Good vs. Foolish
A strategy like Schultz's poses a unique set of challenges when choosing new locations. Because they are locating in areas where making a strong business case is more difficult, Schultz works closely with eSite Analytics to map out the very best locations within conventionally "sub-prime" locations.
And because the demographics in such locations are often transient, e-Site and Schultz take care to map things out in advance. Schultz uses eSite to make sure he is building out where business gets done—in areas that are accessible and visible—to reduce the impediments to success.
A good example might be a cultural center that generates heavy traffic on holidays that might make it difficult for people to get to the theater or other characteristics that are unique—and frequently overlooked—in certain parts of town.
"It feels good to build a business that makes a difference. Without eSite technology, however, I'd be choosing purely by instinct, not intellect, and that's just plain foolish," said Schultz.
Location. Location. Elation.
Schultz's "head and heart" approach to choosing sites has resulted in more than a few home runs and the Upper Darby theater is a prime example.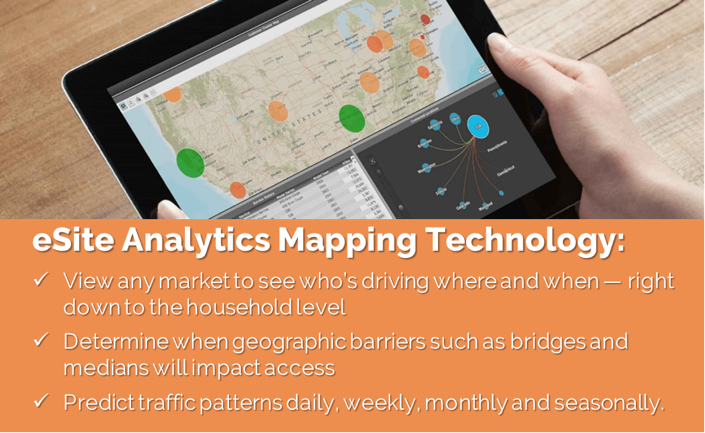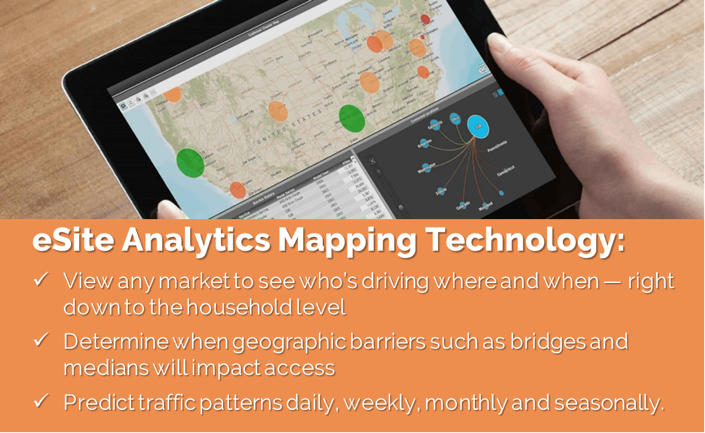 Upper Darby had been plagued by high employment and sluggish economic development, until Studio Movie Grill moved in. Then the magic happened.
"Not too long after Studio Movie Grill came in, H&M, Gap and other chain stores started coming in and it really turned this whole neighborhood around," said Schultz. "I am just so proud of our success there. We're taking that risk and believing in people, in these communities when a lot of other companies have really kind of forgotten about them."
Can You Plan a Sequel?
Schutz's track record of success in overlooked communities is the kind of thing that Hollywood could appreciate. He seems to have a knack for creating "sleepers" that make it big time and again.
Just because Studio Movie Grill has built a number of "sequels," however, the real question is whether community need can actually be considered a viable, and, more importantly, profitable consideration for other businesses.
"That is an interesting question," said eSite Analytics President Charles Wetzel. "I would expand it to incorporate the broader issue of neighborhood gentrification. I find it ironic that the hottest place for a urban professional to live these days might have been a Feed Storage Facility only a few years back."
The key to picking winning locations, said Wetzel, is to marry a clear corporate vision with the kind of dynamic planning provided by eSite and its data-driven solutions. "The eSite platform allows companies to append demographics to psychographic profiles of customers and more," said Wetzel.
"So, for example, if you had a business that was deeply engaged in community outreach, we could work with you to find like-minded concentrations of concerned citizens with the means to make a difference," said Wetzel. "This goes way beyond pinning locations on a map or simply following where the hipsters live," he added.


Knocking Down the Silos
Another challenge that eSite helps clients address is to knock down data silos within the organization. A real estate team, for example, may not be aware of the rich data kept within the marketing department – or the customer loyalty team may not be connected as closely as they could with the customer acquisition team. The best solution to building the bridges? Data.
"eSite helps to build the connective tissue within our clients and their data organizations," said Wetzel. "We can leverage data from multiple sources to assist with topics ranging from customer acquisition and loyalty marketing to real estate development and site selection. The result is that we help ensure that new locations are set up for success through trade area definition – and that helps bring a variety of teams together."
Conclusion: From Blip to Hip.
No business, not even Studio Movie Grill, is going to have a hit with every new location. Yet its undeniable that when a Studio Movie Grill moves in to a neighborhood, fans will follow.
Or to put it another way, an area that might have been a blip on the map to a broader demographics suddenly becomes a hip new spot for that same demographic to shop, entertain and live. At the very least, it attracts the attention of movers and shakers.
For example, once Studio Movie Grill opened in Chatham on the Southside of Chicago, Chance the Rapper, a Southside native, bought out a screening of the recent movie "Get Out" for nearby residents to enjoy for free.
Which was a cool move. By any analysis.